Quick Details
Time:  Noon - 4pm
Price:  $75
Breweries Include
Pick Up Location Information
825 Hennepin Ave, Minneapolis MN 55402 - Outside of Rock Bottom Brewery in LaSalle Plaza 
Please arrive 15 minutes early to check in, make sure to bring your ID!
Wear comfortable shoes and clothes.
Multiple parking ramps are available right in the area or choose metered parking 
Transportation
This tour includes our fun open air bus April - October, and our luxury coach November - March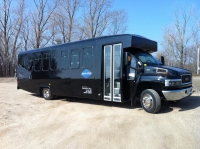 Breweries
Bad Weather
Bad Weather Brewing produces ales that are Untethered and Unpredictable, just like the weather here in Minnesota. The lineup of beers will be constantly changing with fun and unique brews that capture the spirit of the season. With a flagship beer to keep them anchored, an emphasis will be placed on the seasonal beer selection, coming and going as unpredictably as the next thunderstorm. 
Tin Whiskers 
Tin Whiskers mission is to make technically excellent beers, and is the perfect place for beer-nerds and non-nerds alike. They bring our electrical engineering backgrounds into the brewery with their beer names, listing of ingredients and our scientific approach to the brewing process and branding, including circuit board flight holders and the creation of new and innovative beers.
They have year-round beers, seasonal offerings, and prototype small batch recipes always available in the taproom. 
Flat Earth
Flat Earth is located in one of the most unique breweries - it's the old Hamm's Brewery in the huge Hamm's Brewery compound.  They have been brewing beer since before our local craft brew craze and one of the first to have a tap room with the passing of the Surly Bill.  The have a large variety of brews, but if you like hoppy you need to make this a stop.  They feature the hoppiest IPA in the Midwest at 115 IBU's!
Food
Food trucks can usually be found at Bad Weather and some times at Tin Whiskers
Ending Location
Ending location will be the same as the starting location at Rock Bottom Brewery - the first Brew Pub in Minneapolis.  After the tour stop in - we'll give you a "buy one pint, get one free pint".  A full drink and food menu is available in the bar or restaurant.