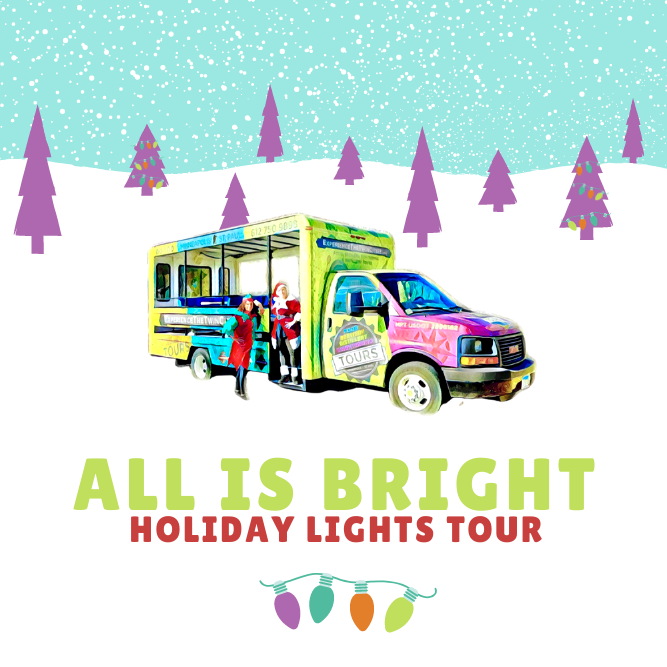 ALL IS BRIGHT HOLIDAY LIGHTS TOUR - 2021
Don't let this cold and crazy winter stop you from having fun, Minnesota! Let's be bold, embrace the cold and make your holidays brighter in the Twin Cities' only open-air fun bus. We have holiday lights, music, AND Santa and a lively Elf will be at your service. It's a perfect outing for families. Choose your date and time slot to book the bus for your private party!  
Be Bold!
Be Brave!
BYOB!
Bring your own blanket
Bring your own beverage (alcoholic or non-alcoholic)
Bring your own brood
TOUR INFORMATION
Dates
4:45pm, 5:30pm, 6:15pm, 7:00pm, 7:45pm, 8:30pm, 9:15pm each night
Thursdays - Dec 2, 9, 16, 23
Fridays - Dec 3, 10, 17
Saturdays - Dec 4, 11, 18
Sundays - Dec 5, 12, 19, 26
Tuesday - Dec 21
Wednesday - Dec 22
Price
$150 for the entire bus exclusively for your group up to 13 guests (that's only $11 per person for a full bus!)
DOT rules and regulations allow 13 guests maximum on this bus, no matter the age; infants and children must be included in total guest count
Location
Overview
No matter the season, Minnesotans embrace the outdoors. Our Bold North winters are no exception! Be bold, get out, have fun. Enjoy the spirit of the holidays with this custom, one-of-a-kind tour. Treat yourself to the magic of the season by viewing beautiful light displays in a fun, safe way. Embrace the cold in the Twin Cities' only open-air fun bus. With a covered top and open sides, it's the perfect way to view twinkling lights along brightly decorated streets. The crisp air, holiday music, and beautiful lights make it perfect for families! This unique private tour is sure to get you in the spirit of the season – so please join us for some festive fun! We'll make your holidays brighter!
Good to Know
Bus holds 13 guests in the back; driver is isolated in separate, enclosed cab
We pick you up at the starting location and travel local neighborhood streets at slow speeds for the 30-minute tour (no highways!)
Dress warmly! This is an open-air bus!
Alcoholic beverages are allowed; must be 21+ years old 
Face coverings encouraged on the bus - grandma's handknit scarf is perfect! Face coverings required inside hotel.
What's Included
Clean, safe, decorated open-air fun bus for your private party
Professional driver, dressed as Santa, on a pre-planned route with many holiday lights 
Our festive holiday music playlist or yours! 
Festive Add-ons
Holiday Snack Pack - $5 - includes 1 personal-size bag locally-made Candyland popcorn, 1 small bottle of water, 1 large candy cane
Handwarmers - $3 - for a pair