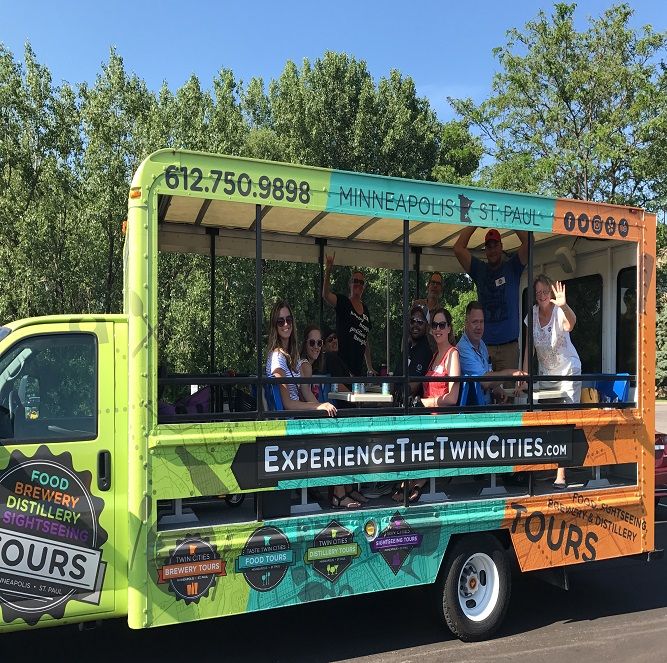 MINNEAPOLIS LANDMARK BUS TOUR
Featuring not only the sights, but also the sounds of Minneapolis (in a unique way which only Experience the Twin Cities can present). Join us for an unforgettable experience touring distinctive landmarks from Minneapolis's past, present and exciting future. (Note: the open-air bus will not be running in 2021; colorful enclosed bus only)
Tour Information
Dates
Public Tour: No public tours available in 2022 due to pandemic.  This tour will be offered in 2023.
Private Tour: Select your own time Sunday through Friday, or for a different time on Saturday! Contact us for availability and booking.
Price
Public Tour: $48 per person
Private Tour: Varies depending on number of guests and size of vehicle booked
Location
Sights
Mississippi Riverfront
Sculpture Garden
Walker Art Museum
Stone Arch Bridge
St Anthony Falls
Basilica of St Mary
Mary Tyler Moore Statue
Nicollet Island
Iconic buildings - IDS & Foshay
Guthrie Theater
Mill City Museum
Prince landmarks
Bob Dylan Mural
Sports Stadiums - USBank, Target Field and Target Center
Much more!
Overview
Featuring not only the sights, but also the sounds of Minneapolis (in a unique way which only Experience the Twin Cities can present). Join us for an unforgettable experience touring distinctive landmarks from Minneapolis's past, present and exciting future. From world-famous murals to the largest river in the United States, you'll see why Minneapolis is known as "the City by Nature." A relaxing 90-minute bus ride, our Minneapolis Landmark Bus Tour is excellent for visitors, locals and families alike!