Saturday
Quick Details
Dates:  Select Saturdays
Time:  Noon - 4pm
Price:  $75
Distilleries Include
Pick Up Location
825 Hennepin Ave, Minneapolis MN 55402 - Outside of Rock Bottom Brewery in LaSalle Plaza 
Please arrive 15 minutes early to check in, make sure to bring your ID!
Wear comfortable shoes and clothes.
Multiple parking ramps are available right in the area or choose metered parking 
Transportation
This tour includes our fun open air bus April - October, and our luxury coach November - March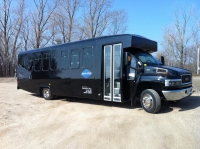 Distilleries
Urban Growler
Urban Growler is Minnesota's first woman-owned brewery with a mission of galvanizing the beer drinking community.  Their beer is handcrafted in 10-barrel batches under the close supervision of Head Brewer and Owner, Deb Loch. They make both traditional beers, like CowBell Cream Ale™, as well as non-traditional beers like Big Boot™ Rye IPA.  Their "Plow to Pint®" Series emphasizes creating brews with a unique local twist. They partner with our Urban Farmers to bring their harvest, such as Minnesota wild rice, honey, raspberries, and pumpkins (to name a few) into their specialty beers.
Boom Island 
Boom Island has been brewing unique, Belgian-inspired craft beers in Minneapolis since 2001. The founders were professional French horn players who left the orchestra world to channel all their creativity into brewing.  Kevin, one of the owners, traveled to 13 breweries across Belgium to brew side-by-side with the leading innovators in Belgian brewing. He also brought home the ultimate souvenir: nine strains of yeast from their source breweries. Today, Kevin uses several of those strains to produce the elusive qualities only found in beer from the breweries of their origin.
Fulton
Fulton was the first brewery to find their home in the Northloop neighborhood founded in 2009.  Started homebrewing out of a South Minneapolis garage and contract brewing at a small Wisconsin brewery. Their dream was to build a real Minneapolis brewery of their own in the next 5-10 years, and quit their day jobs along the way. They ended up building 2 breweries within 3 years.  Some of their popular brews include Sweet Child of Vine and Lonely Blonde. 
Food
Urban Growler features a restaurant with a full menu and at Fulton you can usually find a food truck
Ending Location
Ending location will be the same as the starting location at Rock Bottom Brewery - the first Brew Pub in Minneapolis.  After the tour stop in - we'll give you a "buy one pint, get one free pint".  A drink and food full menu is available in the bar or restaurant.