GUIDE SERVICES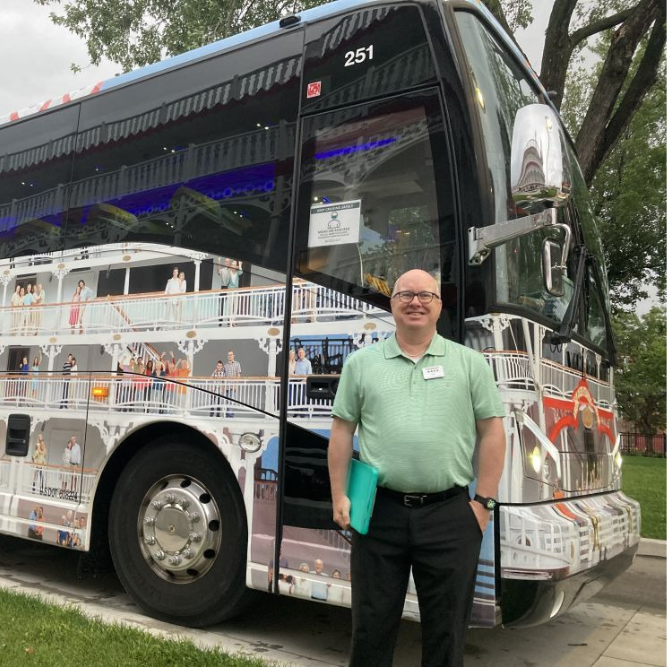 Looking for a local guide to enhance your visit to Minneapolis and St Paul?
We offer Professional Step-On Guide Services and Professional Tour Escort Services, making your experience to the Twin Cities easy, educational, informative, and fun!
Unlike other companies, our guides are highly trained employees of the company. Several have tour guide and tour director certifications, and all work year-round as professional guides, proudly showing off what the Twin Cities has to offer.
Our knowledgeable guides can help your driver navigate the city streets and highways, share local history, and give tips on the best places to eat and drink. They know their way around by bus and light rail, and on foot.
Additionally, several of our Tour Guides are also experienced Tour Directors, successfully managing multi-day over-the-road tours in all locations across the United States, Canada, and Europe. They can escort your group around the Cities providing directions, managing your itinerary, and keeping you on schedule.
Services Include
Step-On Tour Guides
Tour Escort / Tour Director / Tour Manager / Tour Leader
Airport Meet & Greet (Arrivals and Departures) / Airport Transfers
Full convention services
Other services
Step-On Tour Guide
A.  Tour Guide Executes Our Existing Itineraries
A Tale of Twin Cities Sightseeing Bus Tour
Minneapolis Landmark Sightseeing Bus Tour
Best of...Walking Tour
Gangsters, Bootleggers, & Feds Walking Tour
Historical Cathedral Hill & Summit Avenue Walking Tour
Minneapolis Riverboat & Bus Tour
All Is Bright Holiday Lights Tour
Festive Holiday Lights Tour
B.  Tour Guide Executes A Fully Planned And Routed Itinerary You Provide
Tour

We must receive itinerary at least 10 days in advance for learning and preparation
C.  Tour Guide Executes A Custom Itinerary That We Plan
Itinerary Planning Service

Fee collected up front; nonrefundable

Tour
Tour Escort / Tour Director / Tour Manager / Tour Leader
Airport Meet & Greet / Airport Transfers
Inquire for rates and services
Other Services
We can do anything - just ask
How do I book?
Pricing varies per your needs.
Complete the Tour Inquiry Form below, or contact us via email or phone.